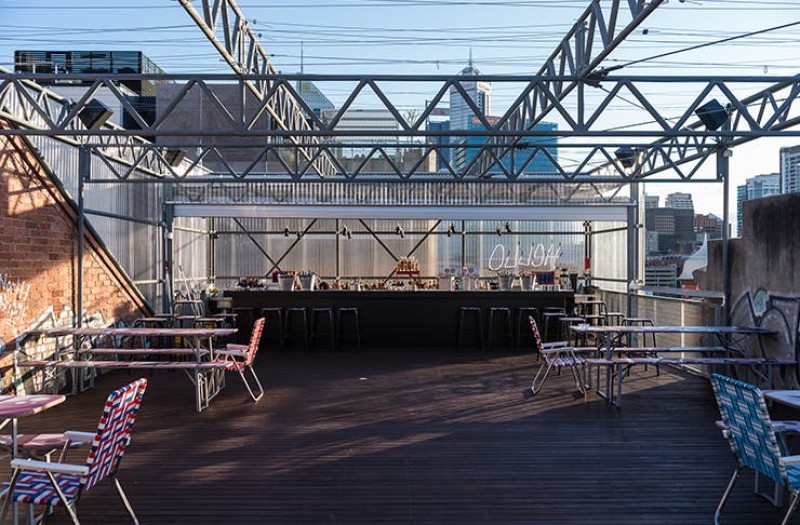 Here's Your First Look At The Rechabite In Northbridge
Rechabite Hall, one of the founding buildings along the William Street strip in Northbridge, was once a vibrant dance hall. But for the last few years it's sat dormant, gathering dust… until now!
The Rechabite has opened with a bang, thanks to a seven-week production of Boom Boom in the House of Casa Blah Blah (from the creators of the sell-out Fringe shows LIMBO and Blanc de Blanc). The newly imagined entertainment and dining venue spans three storeys, houses multiple bars, an eatery and even includes a rooftop with views over Northbridge and the city.
Double Rainbow is a bar and kitchen that sits on the ground floor and has Perth legend Jesse Blake (previously of Petition Kitchen) heading up the kitchen. Then there's the Goodwill Club in the basement serving up plenty of dive bar vibes, and a bar on the rooftop promising plenty of cold ones.
Patrons can hop in a 25-metre cage lift to ride from the basement to the rooftop, witnessing the suspension bridge tiers, barrel vaulted ceiling and stunning original staircase, and take in the fit-out by Adrian Fini which blends utilitarian and heritage elements with illuminated art and an amazing performance space.
Marcus Canning, the founder of Fringe World, Rooftop Movies and The Bakery, is the man behind the redevelopment—so it's definitely safe to say it's a place we're all going to want to hang out—heck, even the bathrooms are cool.
And as for the circus-style show, Boom Boom in the House of Casa Blah Blah was created specifically for The Rechabite and will be running until 21 December. Tickets are on sale now, grab yours here and be one of the first to take a squiz at this epic new space.
For more things to do in Perth, click here.
Image credit: Supplied
Source: https://www.theurbanlist.com/perth/a-list/the-rechabite-northbridge