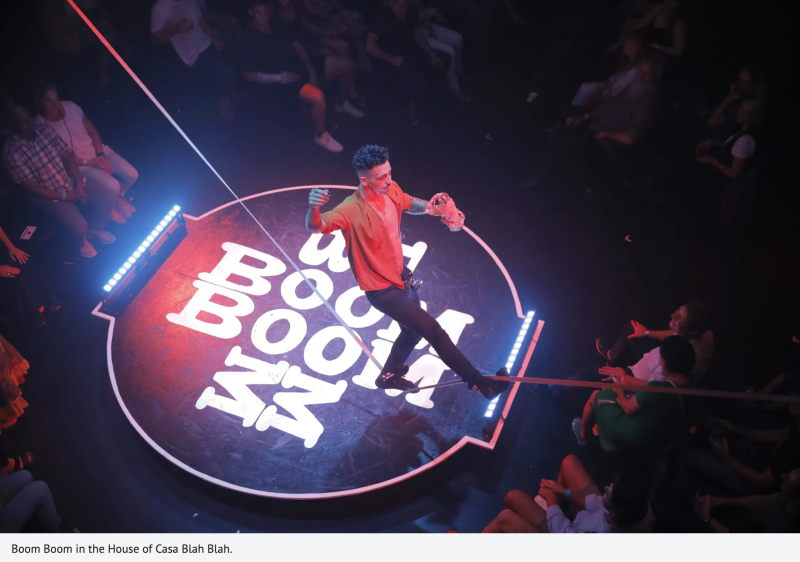 Boom Boom bursts onto Perth stage with high-flying raunchy cabaret style
Home to a building once famous for its ban on booze, the Rechabite couldn't be more contradictory with the launch of its new alt-circus spectacle, Boom Boom in the House of Casa Blah Blah.
Born from a history of arts and local culture, the Rechabite is Perth's newest multi-level entertainment venue.
One of the brains behind the revival of the complex's 10-year dormancy is Marcus Canning, the founder of Fringe World Festival.
"I hope the resurgence of the building will bring a world of Fringe Festival every month of the year … every time people visit the space I want it to feel like an act of theatre," Canning said.
From the award-winning creators Strut and Fret, Boom Boom in the House of Casa Blah Blah has it all with immense aerial acts, frisky cabaret and animated circus skills.
Boom Boom director Scott Maidment said he wanted the audience "to feel like they're attending a crazy house party, featuring all the strange goings-on and nonsense".
"The audience is welcomed into the space by the cast which makes it different from any other stage production," he said.
Maidment couldn't be more correct. At 120 minutes, Boom Boom in the House of Casa Blah Blah is a recollection of a wild night out filled with boozy, gravity-defining acrobats and overly long toilet lines.
The opening scene sets the tone for the untamed soirée ahead. From the moment the production starts, the audience is awed by Spanish aerialist David Macro, followed by spotlight as he effortlessly strolls down a tightrope, wearing nothing besides a strategically placed bowler hat.
Each following act reveals the same level of agility and adroitness.
Fellow Cirque du Soleil alumni Felix Pouliot and Oscar Kauffman produce plenty of gasps with their jaw-dropping stunts. Kauffman delivers a gravity-defying act featuring a coat rack, later returning with Perth local acrobat legend Jess Mews in a sensual aerial performance.
If stunts aren't your jam, Boom Boom is packed with musical numbers featuring the powerful vocals of Melaine Hawkins and Rechelle Mansour while Perth's own Louis Biggs brings his tongue and cheek humour to the stage, making him a drag favourite in Briefs.
It's clear Boom Boom mimics variety shows of the 1960s, with Caudio Carneiro's seedy ringmaster looming over the crowd before thrusting a poor audience member onto the stage (warning: don't sit in the front row).
Boom Boom in the House of Casa Blah Blah is not for the faint-hearted or those offended by nudity or adult themes, yet it encapsulates Fringe World Festival in a perfect way; fun, androgynous and one hell of a party.
However, if Boom Boom wants to keep its Fringe-esque nature, it should drop its ticket price to make it affordable for all.
Expect to leave the show covered in toilet paper and confetti in the most glamorous way.
Boom Boom in the House of Casa Blah Blah is showing at the Rechabite Hall, 224 William St, Northbridge until Saturday December 21.