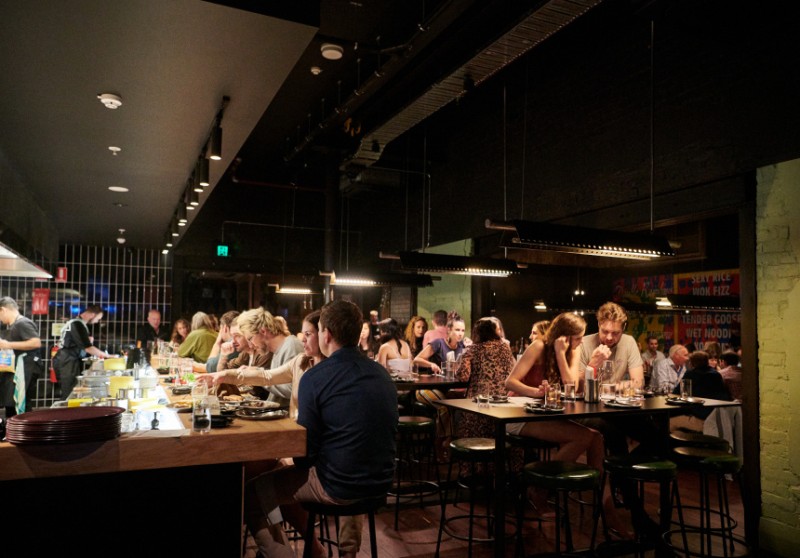 New Late-Night Asian Diner opens in Northbridge
It's big, built for speed and the menu stars doughnut sandos and "sexy rice".
"Fast & furious bar & eatery."
So says the Instagram of Double Rainbow Eating House, an Asian-inspired eatery inside Perth's new late-night performance space, The Rechabite. While The Rechabite is about resurrecting the historic Rechabites Hall, its in-house restaurant is all about the now and serves a sprawling menu that leans heavily into Chinese, Thai and Indonesian cooking.
At the helm of the 240-person restaurant are Jesse Blake – executive chef of Petition Kitchen at State Buildings and, prior to moving to Perth, former sous chef at Melbourne's Cumulus Inc – and Jeremy Bleszynski, lately of Bali's Potato Head, where he's been cooking for the past six years. While the cooking might be "fast and furious", the kitchen strikes a neat balance between the crowd-pleasing (potsticker dumplings, edamame and chicken wings, say) and the imaginative: XO butter clams with fries and wood-roasted bone marrow and flatbread. Double Rainbow, says Blake, wants to get along with its neighbours.
"It's another late-night addition to Northbridge's dining scene," says Blake. "While it'll be high-quality food at a relatively easy price point, we don't want to overcomplicate things and exclude ourselves from what people normally go out to Northbridge for, which is having a good time."
Keeping with the Northbridge theme, offal and lesser-seen proteins are showcased with dishes such as kangaroo tail red curry; sweet and sour triple; and grilled chicken heart skewers, one of the items being cooked on the wood charcoal grill. We're expecting the doughnut sando – a riff on Japan's sandwich du jour, the katsu sando – to be all over Instagram feeds, while Blake hopes the "sexy rice", starring rice and curry, will also establish itself as a signature.
The open kitchen is a key feature of the dimly lit space. Large tables are built for communal dining while lazy Susans tick the boxes for both form and function. Peter van Zeller, previously of QT Perth, is in charge of the bar and the drinks list.
The kitchen will be open until 2am on Fridays and Saturdays to feed and water guests attending that evening's late show (and anyone else in the market for punchy Asian cooking).
Double Rainbow is one of the three venues inside The Rechabite, the new identity of the historic Independent Order of Rechabite's hall that was built in 1925. It is joined by Goodwill Club, a basement-level dive bar and Hello, the complex's rooftop bar named after a graffiti tag found on the building.
Double Rainbow
224 William Street, Northbridge