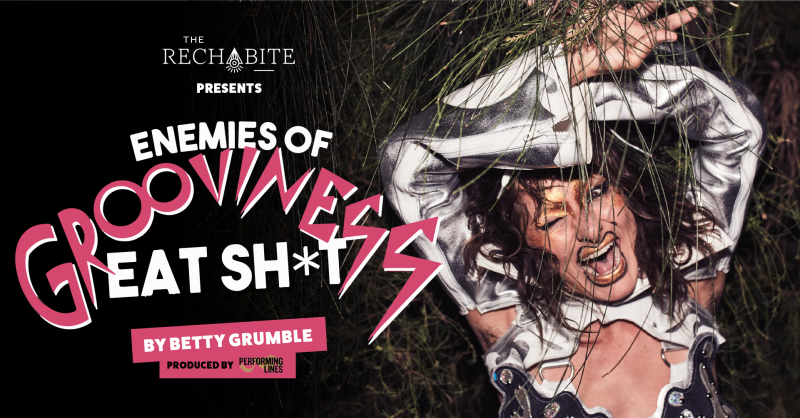 PERFORMANCE ARTIST BETTY GRUMBLE RETURNS TO PERTH
Hope Energy Meets Rage Energy as Betty Grumble Brings 'Enemies of Grooviness Eat Shit' to The Rechabite this August

After an incredible run at both Vivid Sydney and Darwin Festival, Enemies of Grooviness Eat Shit comes to The Rechabite for a strictly limited season. This latest offering by acclaimed performance artist Emma Maye Gibson a.k.a. Betty Grumble, is a mantric wish for an ecofeminist revolution.
Presented by national creative producers Performing Lines, Enemies of Grooviness Eat Shit is a work of ritual theatre entrenched in pleasure activism. It unapologetically and vociferously blends the personal, the political, and the ecological.

A self-reflective, regenerative dive into the compost bin of making and moving through the trouble, the show is also a public rite to honour and process the spiritual avatar and carapace, Betty Grumble, through which Gibson has spoken for so many years.

"Grumble does not belong to me, she belongs to the universe. Like the fractal landscape of a flower, like a drag face on the bum of a caterpillar. She has held me, and at this threshold of maturation, I let her become and unbecome me." Emma Maye Gibson has said.

Returning to the stage following a sold out and critically acclaimed premiere season at Sydney's Red Rattler Theatre, Betty Grumble crafted Enemies of Grooviness as a site of collective grief and revitalisation. As the natural environment continues to be degraded and the dignity and humanity of the marginalised suffers near constant assault, Betty Grumble seeks to salve our wounds and stir fire in our hearts.

Enemies of Grooviness Eat Shit is a show about world-saving and love-making. As with all of Emma Maye Gibson's projects it draws on the pioneering work of queer rebels and climate warriors; it's poetry, a tribute, a rock n roll performance art collision, a love scene and a revenge fantasy.

Enemies of Grooviness Eat Shit shows at The Rechabite for four shows August 10-13.